Happy Tuesday! Today I wanted to share some gift ideas with all of you. Whether you're shopping for someone special, or simply looking for items to put on your own wish list, here are some ideas that I have! This post will be all about beauty and skincare products, but later on this week I'll have even more ideas to share. Let's get into the goodies!
L'OCCITANE Hand Indulgences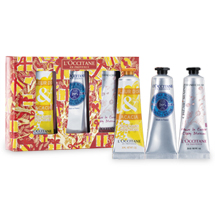 What:
Trio of 3 shea butter hand creams in the scents Fleur D'or, Cherry Blossom, and Shea Butter.
Price:
 $28 (Retail Value: $36) [

BUY

]
Why I recommend it:
These luxurious hand creams are perfect for the winter season (especially if you have a nail polish aficionado for whom to shop!). Give the entire set to one person, or split them up for stocking stuffers.
Sigma Essential Kit
What:
A set of 12 professional makeup brushes, including face and eye brushes.
Price:
 $139 – save 10% with code NOV2013 [

BUY

]
Why I recommend it: 
All makeup lovers need great brushes! Sigma offers amazing brushes that are more affordable than other high end companies. Spoil your loved one with a set of these brushes, and she will appreciate it for sure.
bhCosmetics Eyes on the '60s Palette 
What: 
An eyeshadow palette complete with 30 shades in all colors of the rainbow.
Price:
$9.95 (Retail Value: $19.95) [
BUY
]
Why I recommend it:
bhCosmetics is a favorite of YouTube Beauty Guru
Carli Bybel
. She uses the shadows so often, it prompted me to purchase a palette from the brand, and I highly recommend it! Plus, the prices are perfect for everyone's budget.
Sephora X The Twenty-Two
What:
Set of 22 mini nail polishes from Sephora's new Sephora X collection. Contains creams, neons, chromes, and glitters!
Price: 
$55 (Retail Value: $103) [
BUY
]
Why I recommend it:  
Sephora X polishes have an amazing formula, and are great for any nail polish lover. This is another set that can be given as a large gift, or opened up and split up into many gifts. Plus, it's a fabulous value!
Sephora Favorites Fragrance Sampler For Her
 What:
A set of 14 perfume samples, a clutch, and a voucher for a free full-sized fragrance.
 Price:
$70 (Retail Value: $140) [
BUY
]
 Why I recommend it: 
Picking out the perfect fragrance can be difficult. Sephora makes your job as gift-giver easier with this sampler by providing an array of perfumes.
Wantable Makeup Box 
 What:
A box filled with 4 to 5 full-sized makeup products. What's inside is a surprise!
Price: 
Why I recommend it:
If you really have no clue what to buy the makeup lover on your list, get her a mystery box! Wantable offers amazing high end products that she is sure to love.
These are all of my top gift picks for beauty and skincare this holiday season! There are, of course, many more great brands and options to choose from, but I hope you can draw inspiration from this Gift Guide as you head to the stores. Happy Shopping!
This post contains affiliate links. All opinions are my own. See my Disclosure Policy for more information.