Happy Tuesday! I'm excited to share my favorites for the months of February and March. I didn't get the opportunity to share what I loved in February during Manicure March, so I thought I'd lump the past two months together. It actually works out perfectly because I haven't discovered many new things to share with you. I've been so busy working on the blog these past couple of months, but I've really been enjoying it. Without further ado, let me share my favorites with you!
SKINCARE
Yes to Coconut Ultra Hydrating Melting Cleanser [REVIEW] [BUY]
I've been loving the Yes to Coconut Melting Cleanser! It smells amazing, and does a great job at cleansing my face without stripping it of moisture. I don't use this daily, but when I want a deep clean. It truly melts away my makeup! I'm definitely going to be purchasing more products from the Yes To brand in the future.
BODY CARE
The Body Shop Aloe Body Butter [BUY]
I purchased this body butter because it is fragrance free. I don't know about you, but I'm sensitive to smells, and sometimes it's nice to put on lotion without perfume. This body butter truly is fragrance free, and I appreciate that so much. Plus, it does an amazing job at hydrating my skin. I'm seeing a big difference in just a couple weeks of using it! I do wish it was a bit more affordable, but I'm going to grab it during sales for sure.
TV SHOWS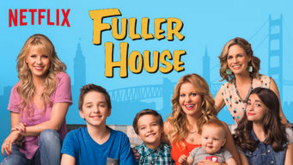 Fuller House
Full House is my favorite TV show of all time, so you know I was ready for Fuller House! I marathoned the series as soon as it came out, and really loved it. I got a free Netflix month just so I could watch it. I'm so glad it got picked up for a second season. It's so fun to see the cast back in action, and I love all the new characters. I highly recommend it if you haven't seen it yet!
The Family
I've also been loving the new show on ABC called The Family! I'm not usually into creepy TV shows, but for some reason I just had to watch this after seeing the commercials. The show follows a family in Maine. Ten years ago, the youngest son went missing, and the man who lives across the street was convicted of his murder. Then, at present day, the son reappears. Now the family is trying to catch his kidnapper. It's so intriguing! I am always excited for a new episode.
BOOK
More Happy Than Not by Adam Silvera [BUY]
My favorite book of the past couple months is More Happy Than Not, a young adult contemporary with a science fiction twist. I will have a full review up for you later this month, but I wanted to share it now so you can pick it up as soon as possible! The story follows Aaron Soto, a teenager living in the Bronx. He is struggling after his father committed suicide, and trying to find his way in life. The story is not only emotional, but it is very well written. I highly recommend it!
ETSY SHOP
Pretty on Paper Co. [SHOP]
I made my first purchase from Pretty on Paper Co. back in January, and I instantly fell in love. The planner stickers in her shop are amazing quality, and I love her design aesthetic. I've already made a second purchase, and I will definitely be back for more! She makes amazing weekly kits, which I love using in my planner. I recommend checking out her shop! She is located in Canada, but shipping to the United States is pretty affordable.
That wraps up my February and March favorites! I hope you enjoyed seeing what I've been enjoying these past couple of months. As always, please share your favorites with me in the comments! I love getting recommendations from all of you. You can also use the hashtag #PolishlandFaves on social media to share your photos. Here's to a great April!
Some of the products in this post were provided for my unbiased review. This post contains affiliate links. All opinions are my own. See my Disclosure Policy for more information.